Would you like to take the next step with your asset management processes? Would you like to co-develop together with the best performing companies? Then it's time to consider Business Analytics. Companies are currently taking steps to utilise the available data to optimise their processes.
In every industry, in every part of the world, managers ask themselves if they are getting enough value out of the information they save in all kinds of systems. Why do we do this? Why do we invest in storing information? Not just the traditional back-office systems, but now unstructured information from documents too, information from a number of sensors and production management systems mean that the total quantity of information is increasing exponentially. To get a handle on it it's critical you take a thorough approach to your Business Analytics.
People often still rely on individual Excel spreadsheets or an existing patchwork of Business Intelligence solutions within the company. It is no longer sufficient to deal with it in this way.. A new approach is needed, one that's part of an enterprise-wide initiative. To do this we first need to look at where we stand currently.
Let's first see what we mean by data analytics. The term is often used together with Business Intelligence and Data Science, and equally often confused with them. To get a clear picture of it we also need to look at the goals and results we ultimately want to achieve.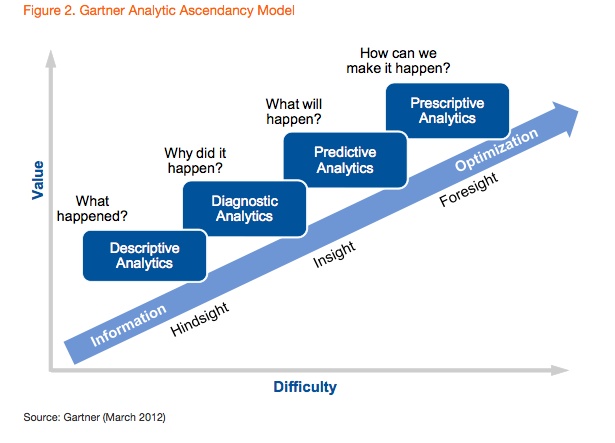 Descriptive Analytics
Characterised by the use of performance indicators, Descriptive Analytics drill down in the data to uncover details like the frequency of events, the operating costs and the root cause of outages.
Diagnostic Analytics
Here we look at the possible causes of problems. Products used in these instances are traditionally integrated in IBM Maximo. These include BIRT, Cognos and Startcenter. Gemba can help you with this, especially if you're looking for an analysis of the past.
Predictive Analytics
With Predictive Analytics we try to predict when events will occur, even if we're not going to address what can be done about them. To accomplish this we need to think about solutions with a more statistical approach, such as PMQ and IBM Watson Analytics, through which predictive analyses are possible. Gemba can help you incorporate this into your Business Analytics strategy.
Prescriptive Analytics
The last form of analytics ultimately answers the question: what are we going to do about it? PMQ can also play a role here.
Ultimately it's not just about delivering the solutions, but making them an integral part of your Business Analytics strategy. We also need to consider questions like:
What do we want to accomplish;
What do we need to know;
How do we get the answers;
What do we need to achieve this;
What must be answered to really get results here?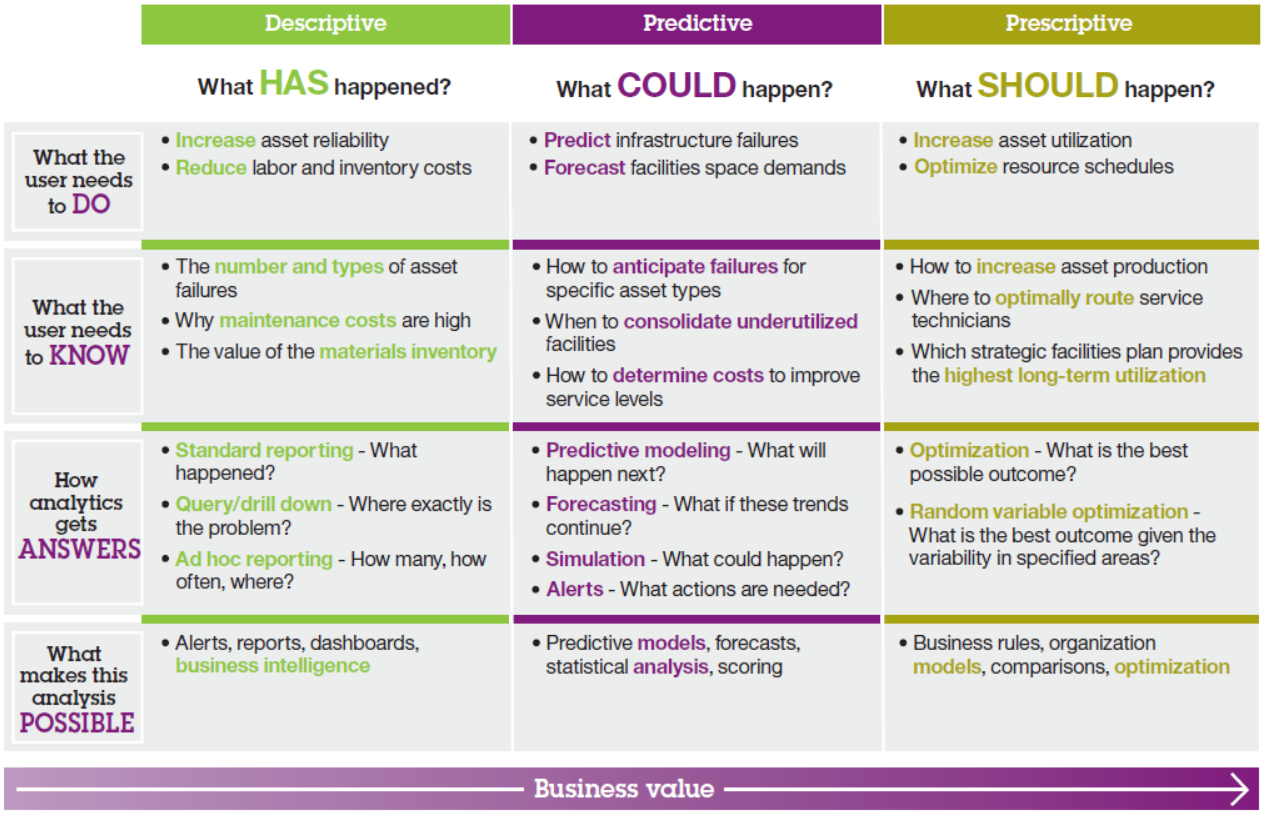 IBM has a broad range of products which are ideally suited to run these analyses. Gemba has the necessary expertise in-house to deploy the right products in the right way.
Products
IBM Maximo Startcenter
IBM Maximo Query by reporting
IBM Cognos
IBM Watson Analytics
IBM Predictive Maintenance and Quality (PMQ)
IBM Predictive Inventory
It is true!
Top Performers Say Analytics Is a Differentiator
Get to know IBM Cognos.