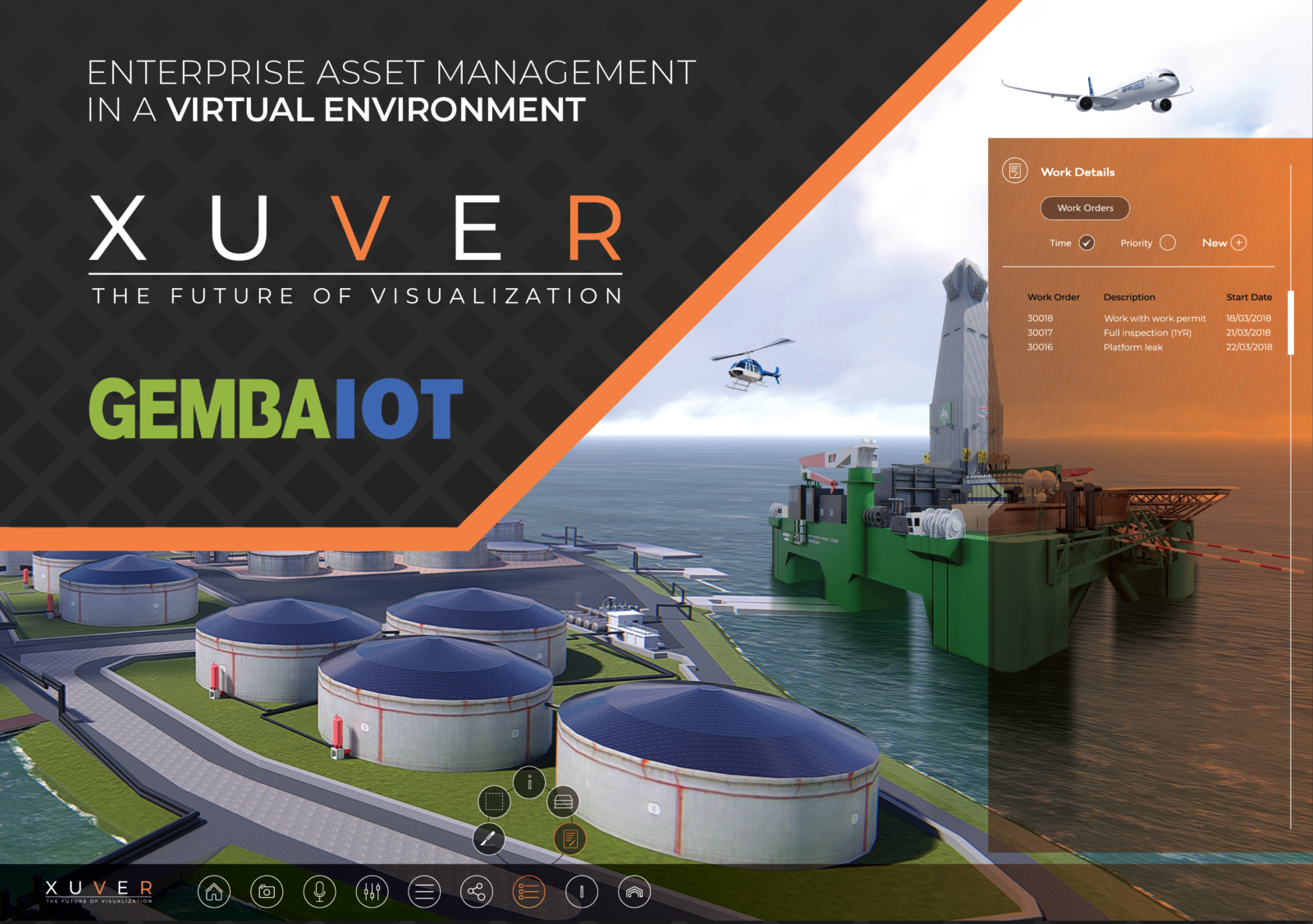 Gemba and his Partner Xuver has developed a revolutionary viewer for IBM Maximo BIM. Based on the new IBM Maximo support in Maximo 7.6. The viewer is fully integrated within the Maximo application, no extra plugins needed and no more complex configuration. In an interactive visual space you can now make better decisions which save you time, money and travelcost.
Multi Avatar supported!
No Plugin or download needed!
Features:
Real time information about open work. Walk through the model and see all open work. Editing workorders by adding comments (Logbook support) and status change of workorders.
Create new workorders on locations and assets directly in the viewer.
Invite Co-workers or contractors to walk through the viewer from any location. You can walk, use a laser-pointer to highlight and even talk with everyone who is present in the viewer.
The viewer is linked to locations and assets by importing the COBie file into the Maximo application.
Locations and assets are linked from the viewer to Maximo. Search for locations and assets in the Maximo application, open the 3D tab and the avatar is landing on the spot.
Open a workorder in the workorder application, open the 3D tab and the avatar is landing on the work location.
"In an interactive virtual environment you can make better decisions which can save you money and travel costs."
Stefan Hoffmanns
From drawing to Viewer
Use BIM software to create a 3D model.  Autodesk, Archicad and Sketchup have plugins available.
This creates the viewer file. Cobie is needed to import into Maximo. The cobie file contains the links between the model and the locations/assets in Maximo
With the editor we can adjust the Xuver Resource file and set e.g. the start position of the Avatar.
After the file is loaded into the cloud, with the received url one can view the model using anu supported browser, or use the 3d tab in Maximo on any supported application (e.g. Locations, Assets and Workorder applications)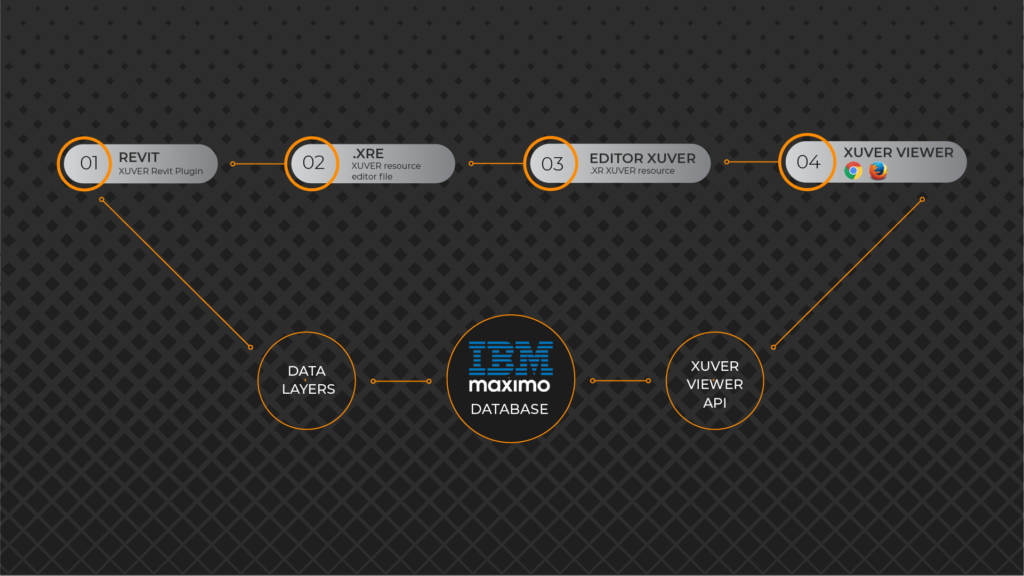 IBM Maximo Extensions for Building Information Models (BIM) provides support for integrating BIM data into, Maximo and for full 3D display of BIM data in context with Maximo applications and processes. For more information download these on the right side.
What is Building Information Modeling?
Building Information Modeling is a process involving the collaborative production & management of digital representations (in 3D models) of the physical and functional characteristics of a facility or asset.
Why do we care for BIM?
BIM is one of the key drivers to lead the fundamental change in the construction industry.
BIM Lyfecycle
BIM allows IBM to enter at early stage of lifecycle of an asset.
According to the National BIM standard- United States, National Institute of Building Sciences the beneficiaries of BIM are:
Owners, planners, realtors, appraisers, mortgage bankers, designers, engineers, occupational health providers, environmentalist, contractors, lawyers, contract officers, subcontractors, fabricators, code officials, operators, risk managers, renovators, first responders and demolition contractors.
End-users
Pricing is user-based, the Service is delivered as a cloud based service by default, on premise delivery can be discussed. Do you want to deliver this first class 3D BIM viewer to your end-users, just contact us here.
Resellers
Are you interested to deliver this solution to your own clients, we have a dedicated reseller program available. Please contact us here to learn more about possibilities for you.
Requirements
Supported Maximo versions are 7.5.0.5+ and 7.6 with the BIM Extension pack