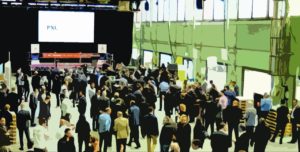 Het iTanks Innovatie Paviljoen XL (iPXL) op donderdag 20 september 2018 is hét platform om op de hoogte te blijven van alle havengerelateerde industriële ontwikkelingen.
Een bezoek aan iPXL is interessant voor iedereen die professioneel betrokken is bij onderhoud, aanschaf, vervanging, uitbreiding, renovatie of reparatie van assets en die op zoek is naar oplossingen en technologische innovaties (zoals robotisering, Virtual Reality & Augmented Reality).
Gemba is op IPXL aanwezig met een stand en ontvangt u graag. Tevens is Jack Lok voorzitter van een van de ronde tafels en heeft u de mogelijkheid vragen te stellen en mee te praten met Jack of een van de andere experts op het gebied van IoT.
Er worden 2000+ bezoekers verwacht en en er zijn meer dan 80 exposanten
Lokatie: De Onderzeebootloods op RDM Rotterdam
U kunt zich hier inschrijven voor het evenement
Inschrijven rondetafel gesprekken klik hier